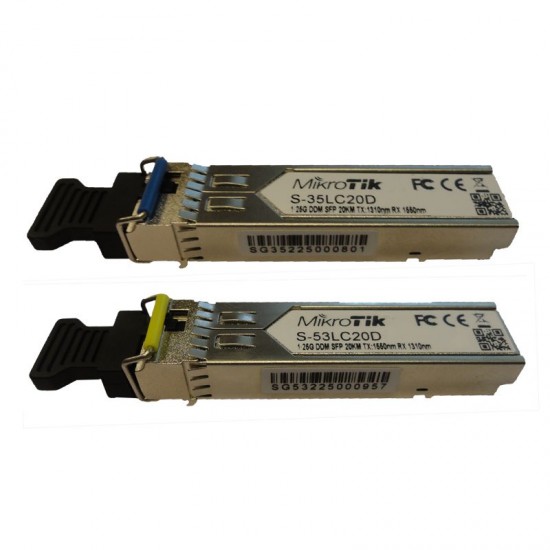 MikroTik S-3553LC20D pair

MIKROTIK
Pair of SFP BiDi Transceivers 1.25G 20km
The pair of SFP BiDi Transceivers 1.25G 20Km makes use of a single but high-performing fiber. Fiber optics, for many years, has been regarded as tone of the best materials to use for data transmission as it offers a host of benefits. One it's more durable than other types of cables such as coaxial. Because it's less vulnerable to breakage, suffering from data loss or transmission is very small. It is a material that is capable for very fast transmission, which is what you need when you want to enjoy the full benefit of wireless technologies such as video and voice. It also works with other kinds of cables like Cat 5, which is usually the one that's often connected to your devices at home. Moreover, you experience less interference with fiber because it can carry a higher signal.
High Data Rates
The pair of SFP BiDi Transceivers 1.25G 20Km has a very high data rate of around 1.25Gbps, which is more than sufficient for a variety of Internet and networking activities. With it you can power up several devices at one time, distribute or share wireless connection to a couple of networks, transfer very large data files, and use the Internet for VoIP or streaming, to name a few.
Long Transmission
The pair of SFP BiDi Transceivers 1.25G 20Km covers a very long distance of up to 20 kilometers. This means that even if the distance is already far, the quality of the connection obtained or transmitted remains almost the same.
Other Information
It is compliant to SFP MSA as well as RoHS, which means it's generally safe to use. It also follows the other safety standards such as IEC 60825-1 and IEC 60825-2. You can also rely on it for both long and short haul link process. It comes with a lone 3.3V power supply.
S-3553LC20D replaces the folowing EOL products: .
Specifications
Characteristics
S-35/53LC20D, Pair of SFP BiDi Transceivers 20km, mini-GBIC, single mode, MIKROTIK