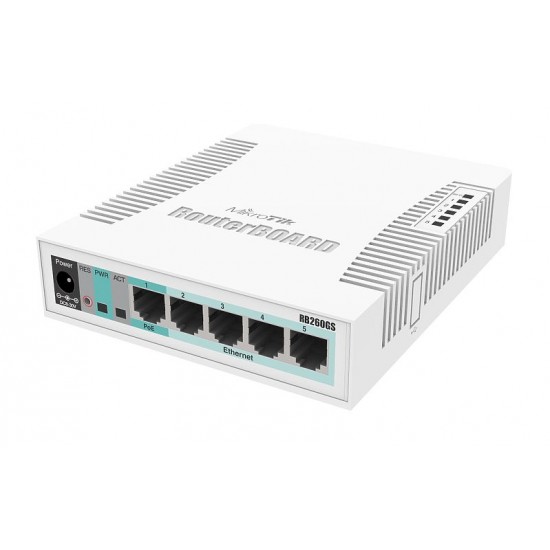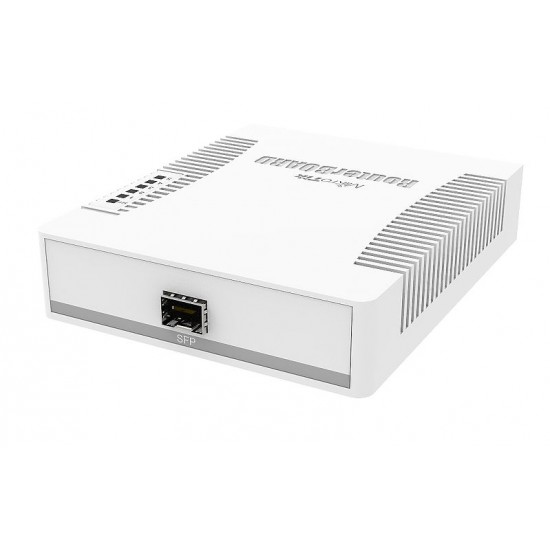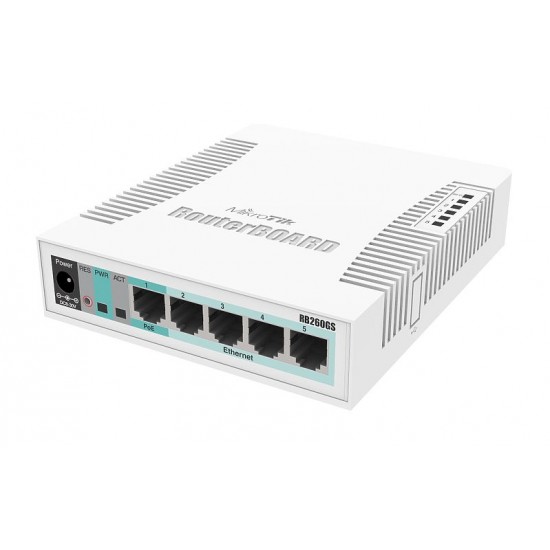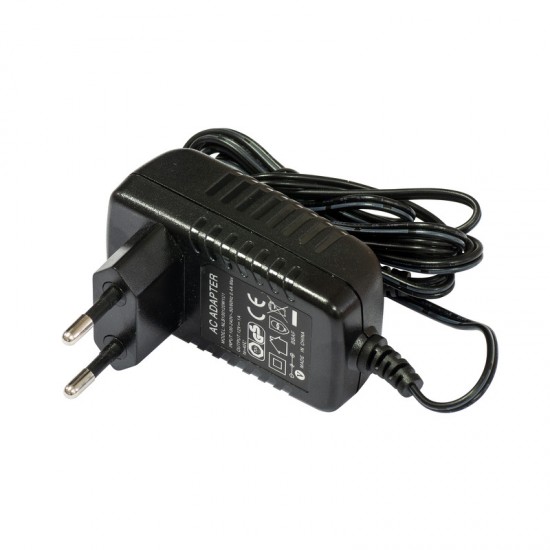 MikroTik RB260GS

MIKROTIK
MikroTik RB260GS is a small SOHO switch. It has five Gigabit Ethernet ports and one SFP cage powered by an Atheros Switch Chip.
Tested and recommended to use with MikroTik SFP modules: S-85DLC05D, S-31DLC20D and S-35/53LC20D (not included)
It is powered by an operating system designed specifically for MikroTik Switch products - SwOS.
SwOS is configurable from your web browser. It gives you all the basic functionality for a managed switch, plus more: Allows to manage port-to-port forwarding, apply MAC filter, configure VLANs, mirror traffic, apply bandwidth limitation and even adjust some MAC and IP header fields.
If you're only running a small home office, you're still going to deal with plenty of devices that have to communicate to one another. When you need to make sure that everything communicates well and you want to have a more centralized system for it, you can purchase RouterBoard 260Gs, one of the reputable switches in the market today. It is cost effective, flexible, easy to use, and completely reliable. It's a great choice for any small business owners.
Carries the Benefits of Switches
Switches are a great addition to any network for a variety of reasons. The RouterBoard 260GS now allows you to manage a lot of devices at one time. Moreover you can drastically improve the way they relate to one another by ensuring traffic is very clean with hardly any noise or interference that may cause one or both of them to malfunction. You can also easily keep track of how the components of your network are being used.
Easy Configuration
The RouterBoard 260GS is a small compact and handy device that measures 113 mm in length, 89 mm in width, and 28 mm in height. It's very portable so you can move it anywhere you prefer. Also, it doesn't tend to occupy a lot of space. There are LEDs in a panel that quickly notify you of the general condition of the devices within the switch. There's also an SFP port when you need to work with fiber channels. It is compatible to various SFP modules.
Great Performance
The RouterBoard 260GS comes with 5 Gigabit ports as well as a 96K SRAM and AR8327 Atheros core processor. It also operates with its proprietary switch operating system that allows you to manage the switch, obtain more information about the switch, restore and reset the configuration, create backup, and upgrade the firmware.
Specifications
10/100/1000 Ethernet-порты
5
Dimensions:
113x139x28mm
Operating Temperature:
-20°C to 70°C
Storage size:
128 KB
Storage type:
FLASH
Operating System:
MikroTik SwOS
Fiber
SFP DDMI
Yes
SFP ports:
1
Powering
DC jack input Voltage:
11-30 V
Max power consumption:
5 W
PoE in:
Passive PoE
Number of DC inputs:
2 (DC jack, PoE-IN)
PoE in input Voltage:
11-30 V