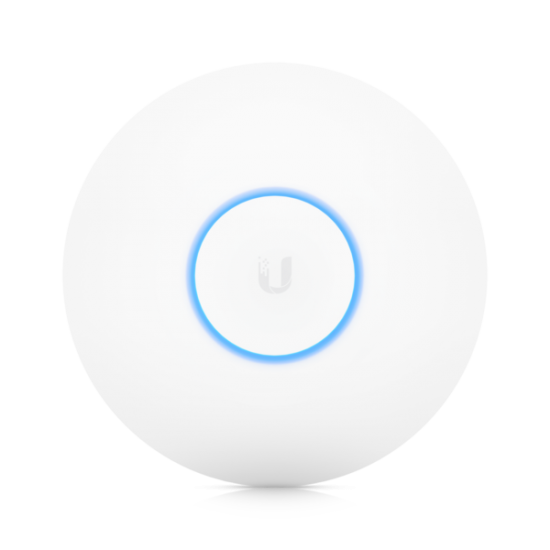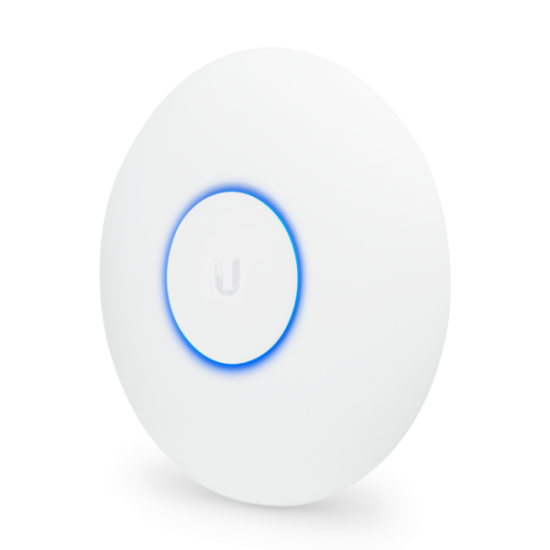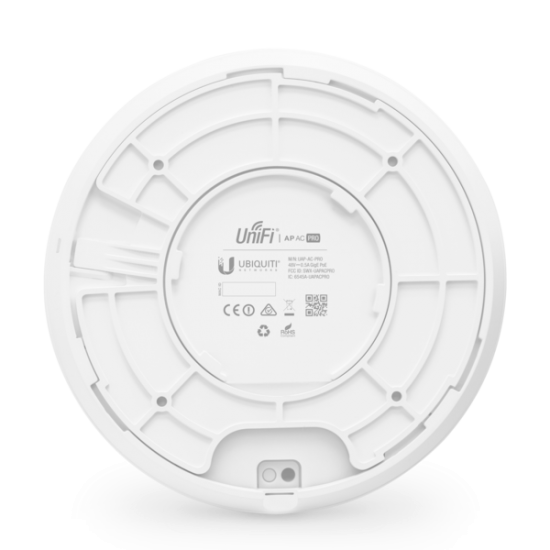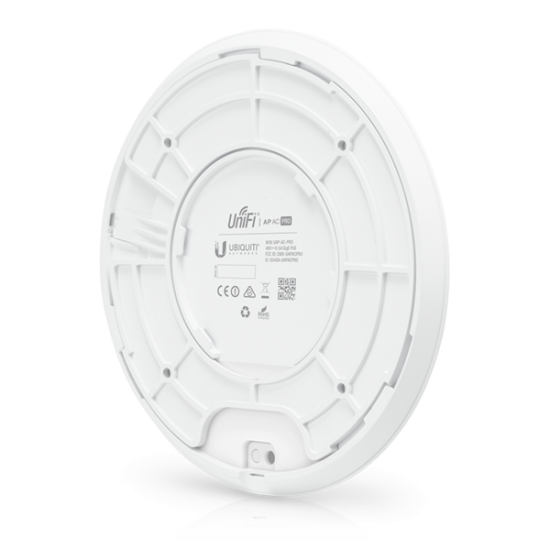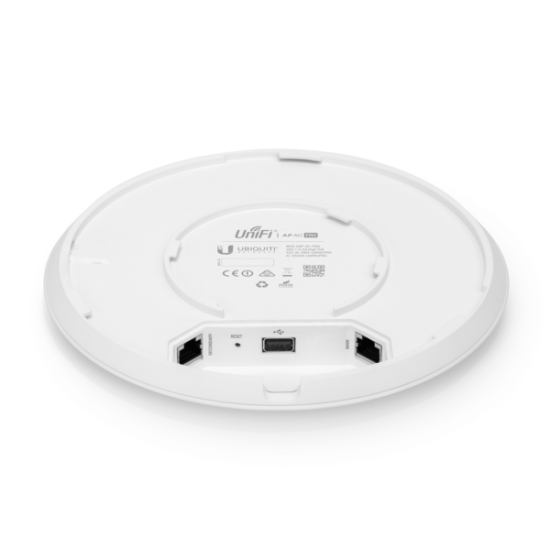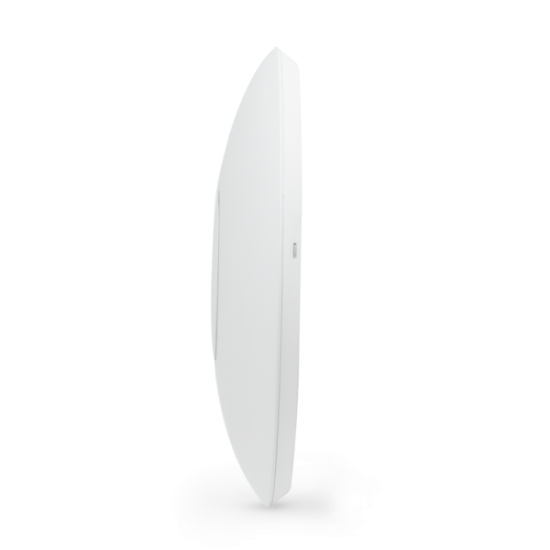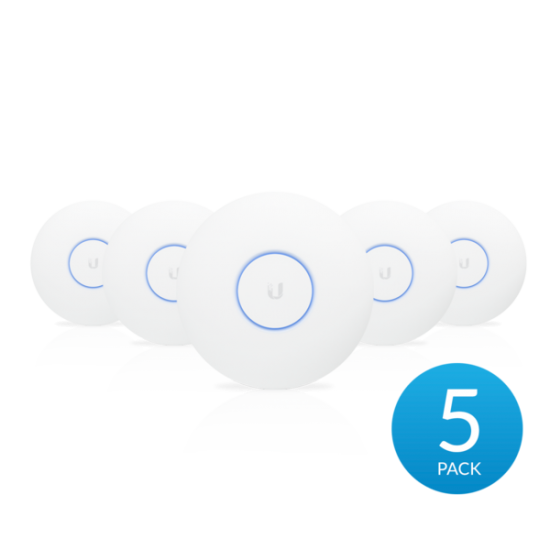 Ubiquiti UniFi AC Pro (UAP-AC-PRO)
Build your Wi-Fi network with the UniFi® ac Pro Access Point, part of the Ubiquiti UniFi Enterprise WiFi System. The UniFi AC Pro Access Point, is an indoor/outdoor, high-performance, 802.11ac dual-band access point, capable of speeds up to 1750 Mbps with a range of up to 122 meters.
UniFi AP AC Pro should be chosen if you need to get the maximum wireless throughput. The applied WiFi antenna scheme MIMO 3×3 provides a record data transfer rate - 1300 Mb/s for the 5 GHz band and 450 Mb/s for the 2.4 GHz band.
The UniFi AP AC PRO access point is capable of operating simultaneously in two bands, so the total throughput reaches 1750 Mb / s, which is one of the highest rates among all existing Wi-Fi equipment.
To connect to a wired network, the access point has two Gigabit Ethernet ports with PoE power support. The UniFi AP AC PRO E also has a USB port for connecting compatible equipment.
The UniFi Controller proprietary software package allows you to create a high-performance network based on UniFi AP AC PRO E access points, consisting of many devices supporting so-called "seamless" roaming. In the process of moving between access points in such a network, switching will occur automatically and without interrupting the connection, which is especially important if you often use Skype or exchange data intensively, transferring large files.
Features:
- Simultaneous Dual-Band 3x3 MIMO
- 5 GHz Band with Speeds of up to 1300 Mbps
- 2.4 GHz Band with Speeds of up to 450 Mbps
- Range up to 122 meters (400 feet)
- 802.3af PoE / 802.3at PoE+ Compatible
- (2) Gigabit Ethernet Ports
Dual-Radio Performance, Gigabit Speeds
The UniFi AC Pro AP delivers 5x the performance of the first-generation UniFi AP while still maintaining Ubiquiti's disruptive pricing strategy.

Designed for Optimal RF Performance
The newly redesigned UniFi Controller optimizes RF performance: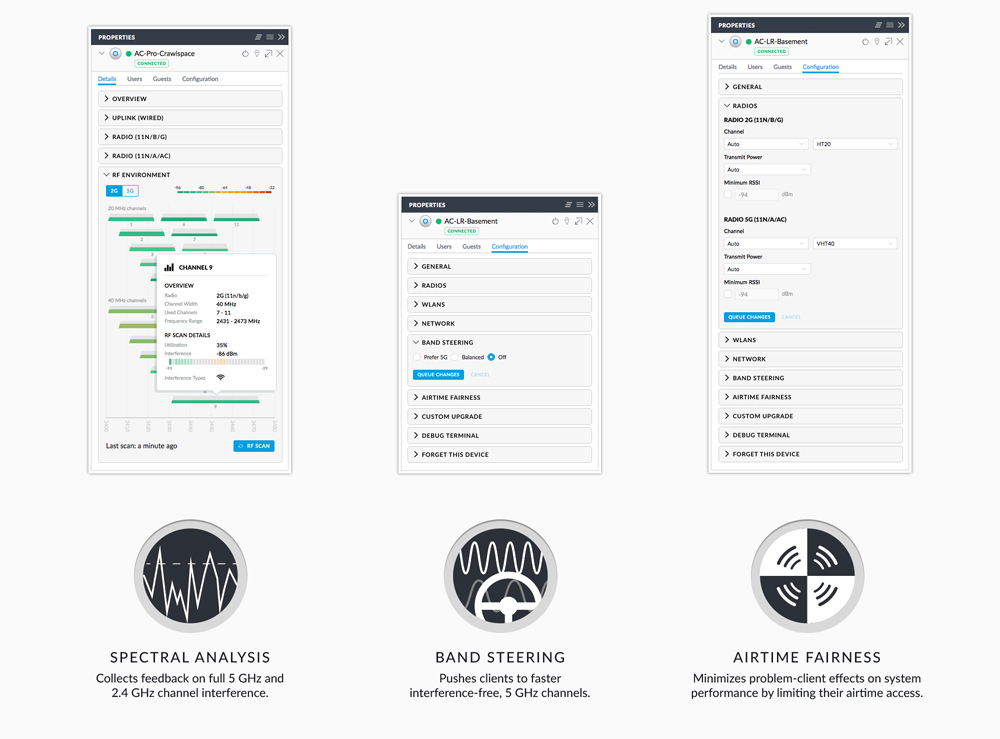 Sleek, Ultra-Compact Design
The UniFi AC Pro AP features a cleaner design in a reduced footprint – half the size compared to the standard UniFi AP.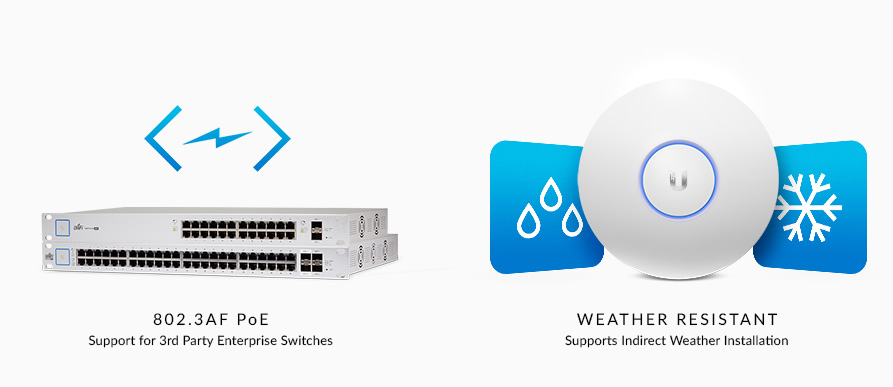 Scalable Enterprise Wi-Fi Management
The UniFi Controller v4 software is a powerful, enterprise wireless software engine ideal for high-density client deployments requiring low latency and high uptime performance. With its software-based capabilities, the UniFi virtual control plane allows for unlimited scalability under one centralized controller. Remotely access the UniFi Controller to upgrade deployed UniFi APs while in the field.

UAP-AC-PRO replaces the folowing EOL products: UniFi PRO UAP-Pro; UniFi AC UAP-AC; UniFi AC Education UAP-AC-EDU; AmpliFi HD Home Wi-Fi Router AFi-R; AmpliFi HD Home Wi-Fi Router and 2x Mesh Points AFi-HD; UniFi AC Pro E (PoE not included) UAP-AC-PRO-E.

Specifications
Antenna gain
(3) Dual-Band Antennas, 2.4 GHz: 3 dBi, 5 GHz: 3 dBi
Buttons
Reset
Ports
(1) USB 2.0 Port
Dimensions:
196.7 x 196.7 x 35 mm (7.74 x 7.74 x 1.38")
Weight:
350 g (12.4 oz), 450 g (15.9 oz) with Mounting Kits
Operating Temperature:
-10 to 70° C (14 to 158° F)
Operating Humidity:
5 to 95% Noncondensing
Networking Interface:
(2) 10/100/1000 Ethernet Ports
Mounting:
Wall/Ceiling (Kits Included)
Wireless
BSSID
Up to Four per Radio
Wireless Security:
WEP, WPA-PSK, WPA-Enterprise (WPA/WPA2, TKIP/AES)
Software
Wi-Fi Standards:
802.11 a/b/g/n/ac
Management
Advanced QoS
Per-User Rate Limiting
Concurrent Clients
200+
Guest Traffic Isolation
Supported
VLAN
802.1Q
WMM
Voice, Video, Best Effort, and Background
Powering
Max TX Power
22 dBm
Power Save
Supported
Power Supply:
PoE Adapter Included
Power Method:
Passive Power over Ethernet (48V), 802.3af/803.2at Supported (Supported Voltage Range: 44 to 57VDC)
Max power consumption:
9W
Certification & Approvals
Certifications
CE, FCC, IC