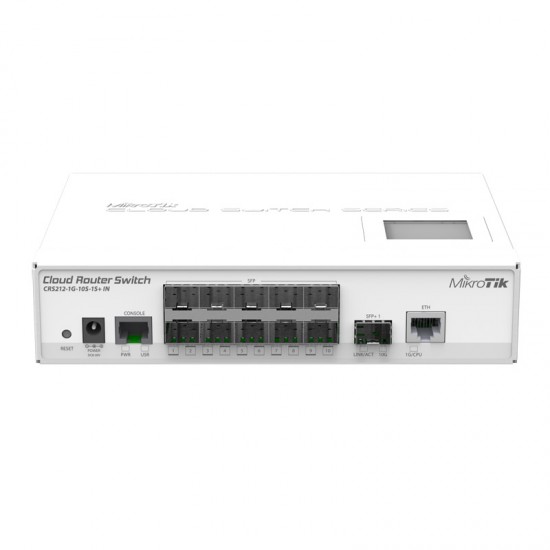 MikroTik CRS212-1G-10S-1S+IN
Stock:

In Stock

Model:

CRS212-1G-10S-1S+IN

UPC:

070874743158

EAN:

0708747431582
MIKROTIK NETWORKS
Mikrotik Cloud Router Switch 212-1G-10S-1S + IN is a new product from the Mikrotik CRS series. It comes with one Gigabit Ethernet RJ45 port, ten SFP connectors and 1 10G SFP + connector, as well as an LCD panel and a serial (RJ45) port. The product includes an inner case and a power supply. There are special holes for mounting.
On tests, the CRS212-1G-10S-1S + IN router showed not only excellent performance, but also full functionality inherent in Layer 3 routers. Taken as a basis, the operating system RouterOS Level 5 allows you to use many options for customization, and the limit of possibilities pleasantly surprised the testers. This wired router withstands maximum loads, from which its performance does not suffer, and the presence of 10 optical SFP 1.25Gbs ports and one additional SFP + 10Gbs port at once makes this model indispensable for building large networks using fiber. In the user menu, you can configure the settings to disable ports and turn the model into a router by letting traffic through the processor. The following interfaces are available:
Gigabit Ethernet RJ45 port;
10 SFP 1.25GB ports;
SFP + 10Gb port.
Mikrotik Cloud Router Switch CRS212-1G-10S-1S + IN is perfect for those who need to build a local office network of medium and large size. A switching device capable of acting as a gateway will provide reliable client administration and other necessary switching and routing functionality. Mikrotik CRS212-1G-10S-1S + IN is optimal for all these tasks, since it is a managed layer 3 switch with the functions of a full-fledged router.
Mikrotik CRS series combines the best features of a fully functional router and a Layer 3 switch. All specific Switch configuration options are available in a dedicated Switch menu, but ports can be removed from the switch configuration and used for routing purposes.

Mikrotik CRS212-1G-10S-1S + IN has a desktop type metal case. However, the package includes special "ears" with which the device can be mounted in a rack. In principle, the Mikrotik CRS210-8G-2S + IN router-switch can also be installed in ShMP boxes, however, try to comply with the operating temperature conditions, which are in the range - 35 to +65 degrees Celsius. Avoid direct contact with water and high humidity conditions.
When purchasing, please note that the switch is designed to operate on the fiber optic portion of your network, as it has 11 optical ports and 1 Ethernet port. MikroTik Cloud Router Switch will expand the functionality of your network and make your data transfer work even more reliable.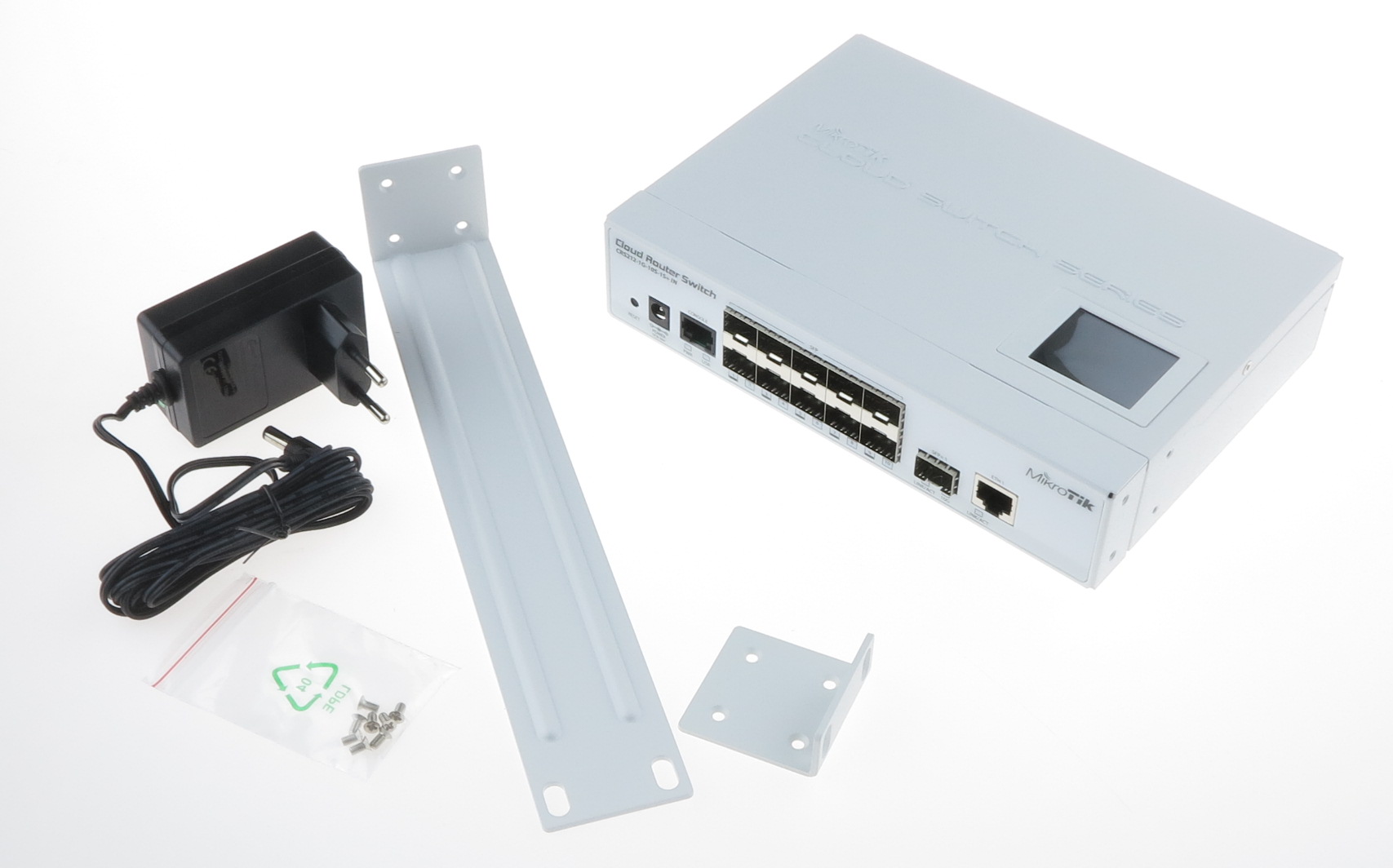 MIKROTIK CLOUD ROUTER SWITCH CRS212-1G-10S-1S+IN - FEATURES
- 10 SFP ports and 1 SFP + port. Mikrotik Cloud Router Switch CRS212-1G-10S-1S + IN in its design mainly has optical ports, the bandwidth of which is 1 Gbit / s. Note that the port modules must be purchased separately. The provided routing functions allow you to use Mikrotik as an Internet gateway, while connecting users / subscribers using SFP ports.
- 1 gigabit Ethernet port.
- Supports DDMI - online monitoring of the interface (temperature, optical power and other parameters of SFP modules)
- Convenient setup and intuitive interface. Mikrotik Cloud Router Switch CRS212-1G-10S-1S + IN has full software - MikroTik Router OS, the license level of which is extended to version L5. It is the presence of powerful software that not only makes work more efficient, but also facilitates the setup process.
- You can use the LCD pre-installed in CRS212-1G-10S-1S + IN for presetting and information purposes. For advanced configuration, an RJ45 console port is provided.
- Sufficiently powerful Qualcomm Atheros 8519 400MHz processor, 64 MB RAM and 128 MB flash memory, used mainly for storing the OS, but with the possibility of expanding functionality.
- There is a voltage and temperature control sensor, a reset button to factory settings, and a sound alert device.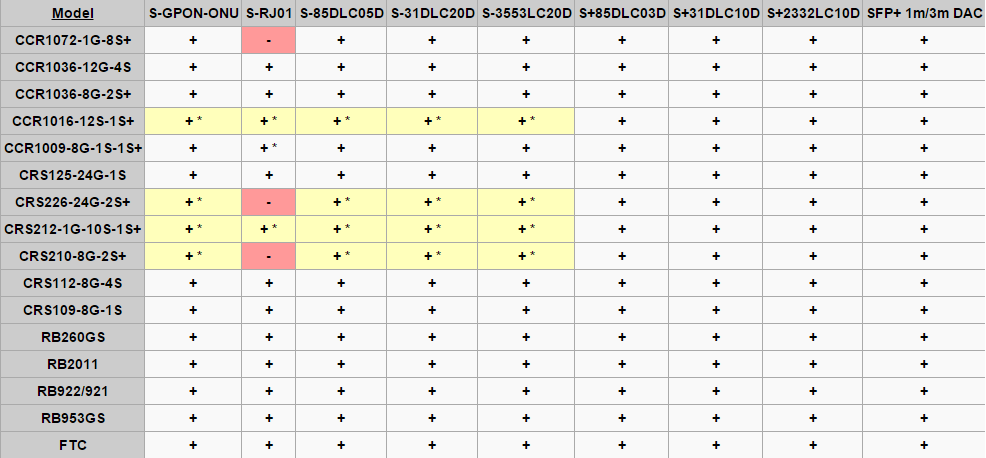 Specifications
CPU:
QCA8519
Dimensions:
200 x 142 x 44 mm
Tested ambient temperature:
-40°C to 70°C
Architecture:
MIPSBE
CPU core count:
1
CPU nominal frequency:
400 MHz
Size of RAM:
64 MB
Storage size:
16 MB
Storage type:
FLASH
Operating System:
RouterOS 5
Ethernet
10/100/1000 Ethernet ports:
1
Fiber
SFP ports:
10
SFP+ ports:
1
Powering
Max power consumption:
20 W
Number of DC inputs:
1 (DC jack)
DC jack input Voltage:
8-30 V
Certification & Approvals
Certifications
CE, EAC, ROHS