07 May
Posted By
0 Comment(s)
107 View(s)
Compusale Technologies LLC is an Authorized Distributor of KP Performance in Azerbaijan.


KP Performance Antennas provides Wireless Internet Service Providers (WISP) antennas and accessories designed to deliver high performance at competitive prices. The company's product line consists of a variety of antenna styles that operate on the popular 900 MHz, 2.4 GHz, 3 GHz and 5 GHz frequencies, including sectors, reflectors, horns, yagas and omnidirectional antennas.
KP Performance Antennas have leveraged their many years of experience and expertise to develop products that optimize throughput and extend service coverage. Their superior product line improves operational efficiency and lowers maintenance costs for WISP operators, all backed by a 100% performance guarantee.
The new antennas are the first Wi-Fi 6e antennas available on the market to deliver the fastest data rates
KP Performance Antennas, Infinite Electronics' brand and manufacturer of wireless antennas, has just launched a new line of Wi-Fi 6 and Wi-Fi 6e omnidirectional and flat antennas ideal for commercial and enterprise users in industry, utilities, Million / aero and small office and home office (SOHO) applications.
One of the world's first WiFi 6e antennas available for the mass market, enabling 1200 MHz of the new available spectrum. Quadrupling the available Wi-Fi network and using our antennas will achieve speeds of up to 1-2 Gbps, which is comparable to 5G signals in the millimeter (millimeter) waveband.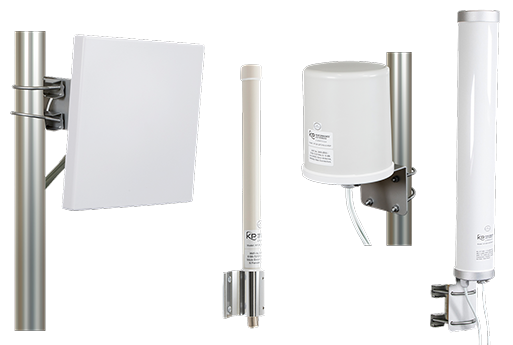 • Indoor multi-gigabit Wi-Fi bandwidth.
• Gigabit coverage of the whole house
• High speed modem
• Low latency Wi-Fi calling.
• Impressions of the next generation with AR / VR
KP's latest omnidirectional and flat antennas cover the 2.4, 4.9, 5 and 6 GHz bands and are Wi-Fi 6e ready. They provide more spectrum at 1.2 GHz than previous Wi-Fi antennas. This quadruple increase in available Wi-Fi allows speeds ranging from 1 Gbps to 2 Gbps, which is comparable to mmWave 5G signals. These antennas also offer low latency and work with the latest devices released in 2021 and beyond.
KP Performance offers WISP a set of broadband multicast antennas and accessories covering the most popular Wi-Fi, LTE and 5G frequencies such as 900 MHz, 2.4 GHz, 3 GHz, 5 GHz.
Top 5 Reasons to Choose KP ProLine Sector Antennas for Your Network

Help ISPs Increase Your ROI with Outside Timeline and Same Day Antennas!
With many years of experience in the field as former WISP Operators and Ph.D. Antenna Engineers, KP Performance Antennas helps wireless Internet service providers maximize ROI with products designed to exceed industry expectations, delivering superior bandwidth, greater service coverage, reliable performance, and lower service costs.
KP Performance Antennas 3 GHz Sector Antennas for WISP Networks

Founded in Edmonton, Canada in 2008 as a manufacturer of broadband antennas and accessories for the fixed wireless ISP market, KP began by developing a reflective dish antenna for the Motorola Canopy range, which outperformed existing models in the market in all key performance areas. ... This early success was followed by the design of a new foot mount on the baffle plate that allowed the subscriber unit to snap into place for ease of installation. KP was then selected as an OEM reflector dish manufacturer for the Cambium Canopy line, our first step towards a range of antennas that continue to exceed industry standards. Since then, we have focused on developing and refining our antennas to include the industry-leading single and dual frequency sectors, omnidirectional, yagi and panels operating from 200 MHz to 6 GHz.

KP Performance Antennas Introduces New 900MHz Omnidirectional Antenna with 10dBi Gain and Dual Polarization

KP Performance Antennas Inc. is a portfolio brand owned by Infinite Electronics, Inc. headquartered in Irvine, California.