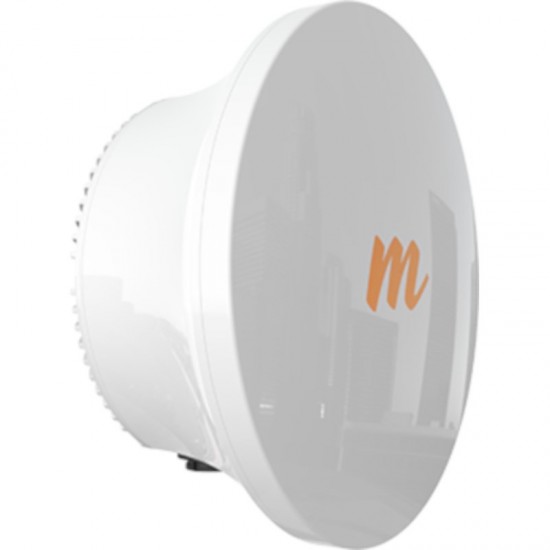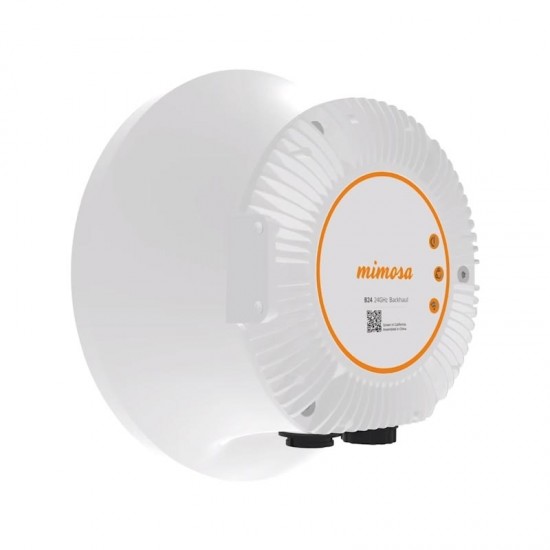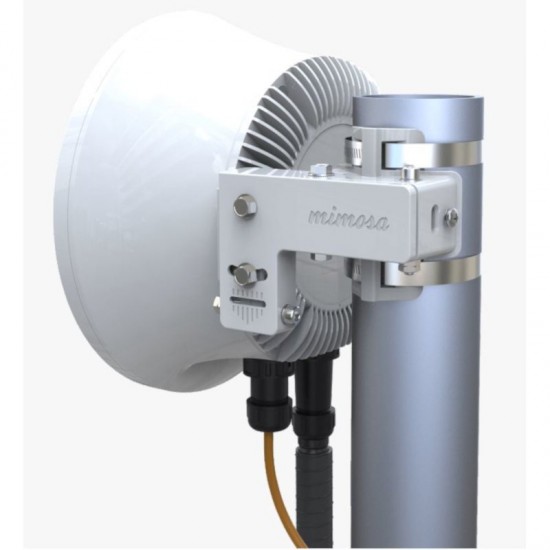 Hot



Mimosa B24 Backhaul (100-00074)
Stock:

In Stock

Model:

100-00074

UPC:

070874743757

EAN:

0708747437577

MIMOSA NETWORKS
Reliable 24 GHz Unlicensed Gigabit Performance!

The Mimosa B24 breaks the existing barriers of price, size, performance and power efficiency in the less crowded, unlicensed 24 GHz band.
Price Performance Leader
Delivering nearly a Gigabit of low latency IP traffic in a single direction, the Mimosa B24 is the industry's price performance leader in unlicensed 24 GHz backhaul. Designed from the ground-up using reliable, high volume components, the B24 achieves incredible performance at a disruptive price that fits the economics of broadband providers and enterprises in suburban and urban markets.
Gigabit on Demand
To meet modern internet traffic needs where nearly 90% of the peak evening traffic demand can be in the download direction, the B24 dynamically adapts to changing demands using Auto-TDMA technology. Low-latency Gigabit throughput can be directed either upstream or downstream as needed to maximize spectrum utilization throughout the day. Legacy FDD radios are limited to symmetric traffic usage, leaving vast amounts of spectrum constantly underutilized.
Unparalleled Reliability
Don't be distance-limited by higher frequency microwave technology. Use the B24 to avoid the congested 5 GHz spectrum and deliver superior reliability, even with rain, at practical distances up to 3 km (2 mi).
Going the Distance
How will the B24 perform for you? Use this simple link calculator to see what throughput you can expect based on distance, rain and your regulatory requirements. For more detailed link designs, please use the Mimosa Network Design Tool.
Lightweight
Weighing in at just 2.7 kg (6 lbs), Mimosa's B24 is incredibly easy to transport and install.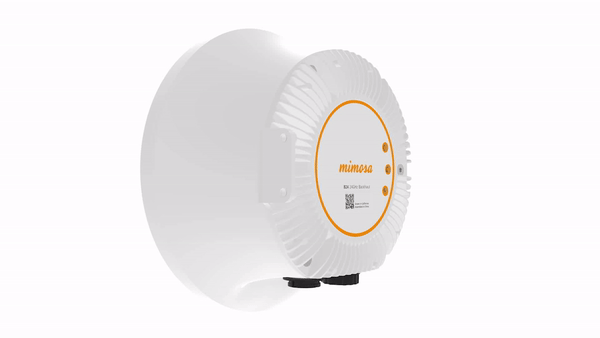 Small and Beautiful
At a fraction of the weight, size, and power of alternative solutions, the B24 is incredibly easy
to install and its compact design fits discretely into any visually-sensitive area.
\
Solar Friendly
Consuming a mere 19.5W, the B24 is great for applications requiring low-cost battery backup.
Sync that Works
Like other Mimosa products, GPS synchronization allows collocated B24 radios to share the same channel, permitting up to eight links to operate at the same site, each running at 1.5 Gbps.
Fiber Ready
For flexibility, redundant Ethernet and fiber connections are supported, a feature that was previously only available in stratospherically priced outdoor products.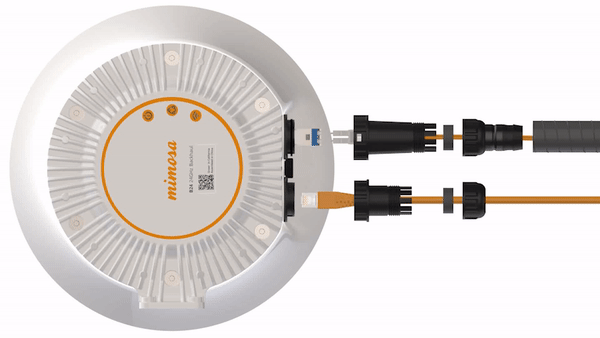 Download PDF: Mimosa B24 Datasheet

Unboxing the Mimosa Networks B24
Mimosa Networks: B24 Mounting, Installing and Aiming Tips
Specifications
Antenna gain
33 dBi
Frequency Range
24.00 - 24.25 GHz worldwide support; Operating range is 24.07 - 24.23 GHz
Low Latency:
<1 ms
Max PHY rate:
1.7 Gbps PHY
Max Throughput:
Up to 1.5 Gbps IP aggregate UL/DL
MIMO chains
4x4:4 MIMO OFDM up to 256 QAM
Operating Altitude:
4,420 m (14,500') max
Outdoor Ingress Protection Rating:
IP67
Supported MAC:
TDMA, TDMA-FD
Wind Loading
12.52 kg @ 160 km/h (27.61 lbs @ 100 mph)
Wind Survivability:
200 km/h (125 mph)
Characteristics
Reliable 24 GHz Unlicensed Gigabit Performance Aggregate Speed: 1.5 Gbps Link Distances: 3km Antenna Gain: 33 dBi
Dimensions:
Height: 260 mm (10.24") Width: 260 mm (10.24") Depth: 134 mm (5.3") without bracket; 252 mm (9.9") with bracket
Operating Temperature:
-40°C to +55°C (-40°F to 131°F)
Operating Humidity:
5 to 100% (non-condensing)
Networking Interface:
Gigabit ethernet (RJ45) and gigabit fiber (SFP cage); Operation modes: Hot standby
Polarization:
Dual-linear (slant 45º)
Enclosure Characteristics:
Outdoor UV stabilized plastic; Powder-coated, aluminum mounting panel
Mounting:
Precision lightweight aiming pole mount with +-15º elevation and +-2.5º horizontal adjustment screws
Sensitivity:
-84 dBm @ 80 MHz -87 dBm @ 40 MHz -90 dBm @ 20 MHz
Wireless
Channel Bandwidth:
Single channel allows 5 MHz channel spacing; Dual channel allows separate, no-overlapping 5 MHz spacing increments
EIRP:
~20 dBm (CE) ~33 dBm (FCC/IC) ~37 dBm (other regions)
Powering
System Lightning & ESD Protection:
6 kV
Power Method:
48V DC 802.3at compliant
Max power consumption:
19.5 W
Power Supply (PoE):
Passive POE compliant, 50V 1.2A power over ethernet (included)