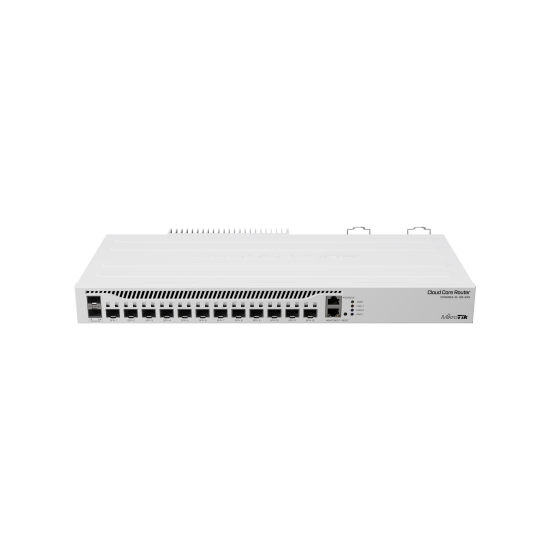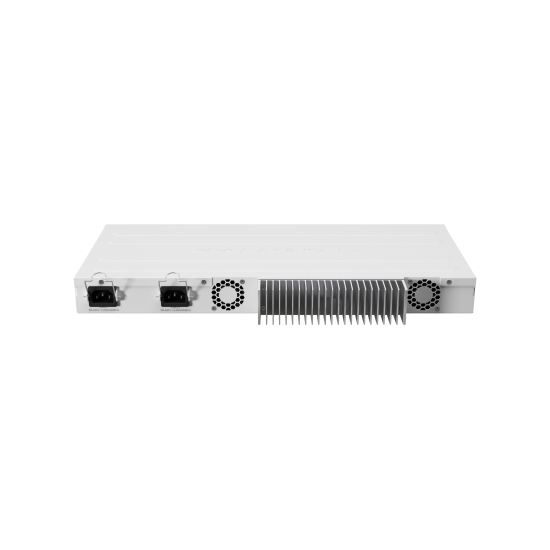 New


MikroTik CCR2004-1G-12S+2XS
Model:

CCR2004-1G-12S+2XS

MIKROTIK
MikroTik's Cloud Core Router series, introduced in early 2023, represents a cutting-edge lineup of high-capacity routers designed to connect and consolidate small computer networks into a single large network. These routers offer powerful single-core performance, making them ideal for handling heavy operations with per-connection processing. The series features a range of models with various port configurations and redundant power supplies, catering to diverse networking needs for businesses, ISPs, research facilities, and more. With their advanced features and affordability, MikroTik's Cloud Core Routers are a reliable choice for taking networking setups to the next level.
Unmatched Connectivity
Say goodbye to connectivity troubles with the MikroTik CCR2004-1G-12S+2XS router. This feature-packed device offers an impressive array of ports, including 12 x 10G SFP+ and 2 x 25G SFP28, making it a true networking powerhouse. With this router's unmatched single-core performance and exceptional results in single tunnelling (up to 3.4 Gbps) and BGP feed processing, you can expect nothing less than top-tier performance for your network.
Boundless Networking Possibilities
Pair the CCR2004-1G-12S+2XS with MikroTik multiport products like CRS317-1G-16S+RM, CRS312-4C+8XG-RM, or CRS326-24S+2Q+RM, and experience limitless networking possibilities. Comparable to the renowned CCR1009/CCR1016 routers in terms of performance, this router ensures your networking setup knows no bounds. Moreover, with its dual redundant power supply, you can wave goodbye to unexpected downtime.
Versatile Port Configuration
The CCR2004-1G-12S+2XS comes with a diverse port setup, making it an excellent addition to any professional networking toolkit. No matter the situation, this router ensures efficient and flexible performance, saving you time. Plus, with 4 GB ECC RAM in RouterOS v7, you can be confident in smooth network operations, even with advanced configurations.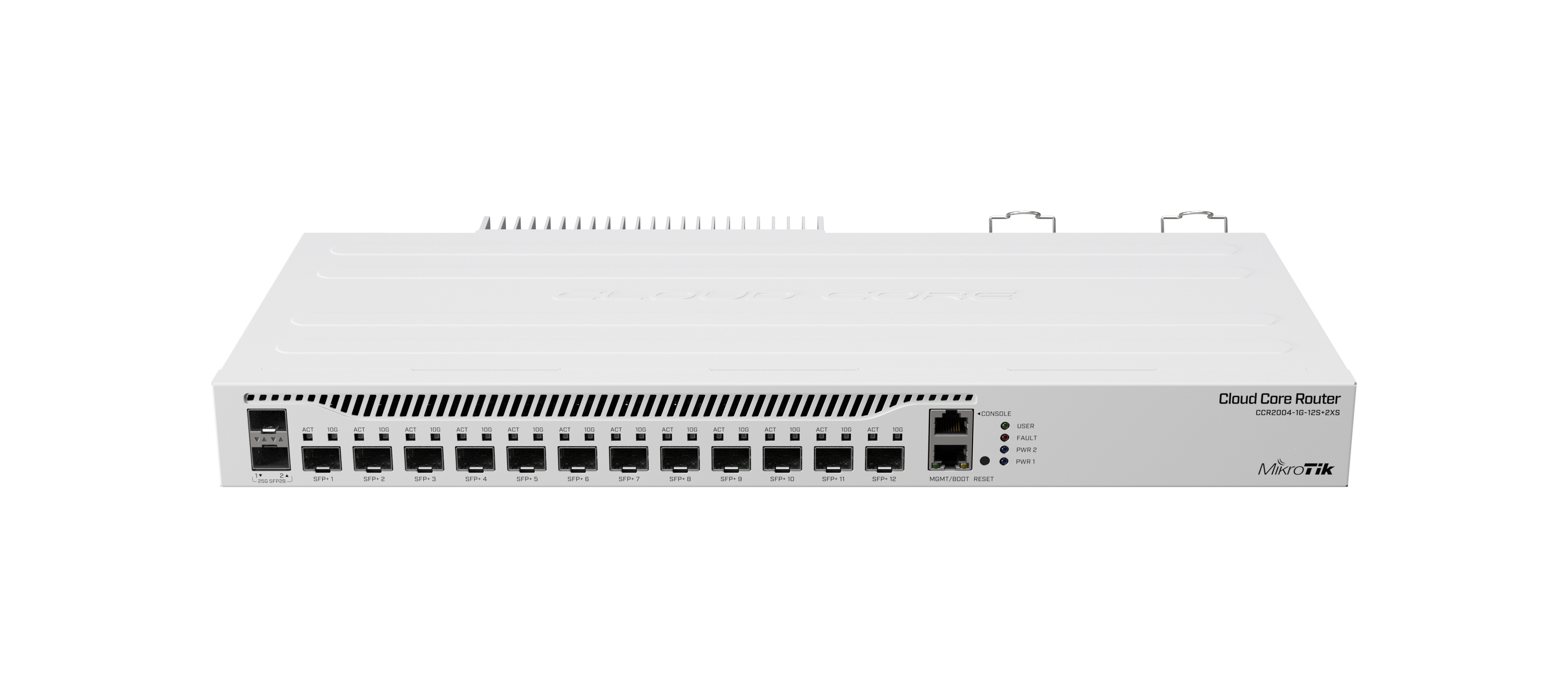 Compact and Reliable Design
Designed with reliability in mind, the CCR2004-1G-12S+2XS comes in a compact and sturdy RackMount case. The white 1U rackmount design allows for seamless integration into your existing network setup. With 128 MB of storage memory, the router efficiently handles updates and configurations, providing a stable and steady network operation.
Future-Ready SFP+ Ports
Embrace future-proof connectivity with the two 10G SFP+ cages, delivering lightning-fast data transmission rates. These high-speed ports not only ensure seamless connections but also ensure your network is ready for upcoming technological advancements, making the CCR2004-1G-12S+2XS a smart investment that will stand the test of time.
Compare with similar products