Ubiquiti WiFi Network in Cafes and Restaurants
Ubiquiti WiFi Network in Cafes and Restaurants
The availability of Wi-Fi Internet in a cafe or restaurant is a standard in the modern world. This service has a positive effect on the comfort of the client's stay in your establishment, allows him to occupy him while the order is being prepared, and affects the loyalty of visitors.

The lack of Wi-Fi Internet surprises visitors, and poor-quality Internet access is annoying and negatively affects the image of the establishment. This often happens because, unknowingly, or perhaps out of stinginess, a regular home Wi-Fi router is bought in a cafe, which is simply not designed to work with so many clients. The wireless Internet starts to slow down, clients cannot connect to Wi-Fi, or they are simply thrown out after a while. Visitors who come to such a cafe for lunch to discuss business, projects, and just share with each other interesting information that is available via the Internet will not come here again.
In bad cafes and restaurants, despite customer complaints about poor quality Wi-Fi Internet access, the administration does nothing to fix it. Is there Wi-Fi? There is. Well, it slows down, but what can we do? Apparently, these cafes do not need visitors.
We will not focus on such establishments, and will tell you how to choose the right Wi-Fi equipment for a cafe or restaurant so that this service helps turn new visitors to your establishment into your regular customers.

And by the way, you can earn money on Wi-Fi access to the Internet by showing advertisements to cafe visitors on their tablets and smartphones. This is especially true for large shopping centers. If you go shopping and offer to display their advertisements for visitors to your cafe, then most likely they will agree.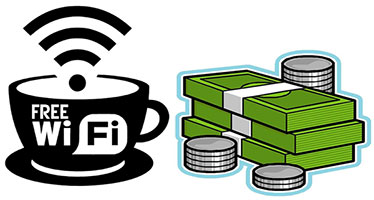 Let's start choosing Wi-Fi equipment for a cafe or restaurant.
Wi-Fi equipment in a cafe operates in a much harsher environment than at home, so it must meet certain requirements:
Provide 100% wireless coverage of the entire room;

Serve a large number of simultaneous connections (15-50 clients per Wi-Fi point). At the same time, the equipment should not freeze, shut down and overheat;

The ability to configure Internet speed limits for visitors to provide a guaranteed speed for each user;

Distribute the Internet channel equally among all users so that no one can put the file for download, and the rest sit without the Internet;

The ability to customize the display of ads to visitors.
We offer you the equipment of the American manufacturer Ubiquiti UniFi as Wi-Fi access points for cafes. It has all of the above requirements and a low price compared to solutions from other manufacturers such as Cisco, Aruba, Ruckus, etc.

Wi-Fi points are powered remotely via a network cable using PoE technology, which is very convenient. Therefore, you do not have to pull 220V high voltage wires to points. UniFi can be easily placed on a wall or ceiling.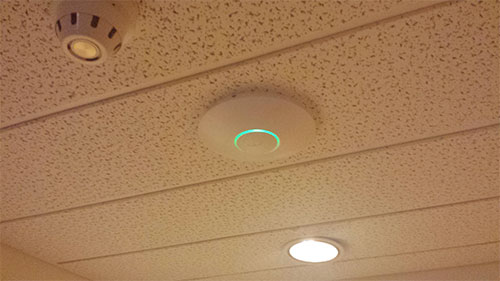 Installing UniFi Wi-Fi hotspots on the ceiling.

Consider the main models of Ubiquiti UniFi Wi-Fi access points, and which ones to choose for your cafe or restaurant.

| | | | | | | | | | | |
| --- | --- | --- | --- | --- | --- | --- | --- | --- | --- | --- |
| | | | | | | | | | | |
| | | | | | | | | | | |
| | | | | Dual-band with standard power | | Dual-band with increased power | | Dual-Band for a large number of clients | | |
UniFi AC Lite -compact dual-band point at 2.4 and 5 GHz with a standard output power of 100 mW. Designed for 30-50 clients. Suitable for cafes where you need to cover a small area with Wi-Fi, for example, near a bar. It is also used when you have very thick walls and powerful Wi-Fi points do not help. In this case, many weak Wi-Fi points are distributed throughout the room.
UniFi AC LR - dual-band point at 2.4 and 5 GHz with increased output power (250 mW at 2.4 GHz and 158 mW at 5 GHz). Designed for 50-100 clients. The most optimal option for price and performance. Now it is the most popular Wi-Fi hotspot for cafes and restaurants.
UniFi AC Pro - dual-band point at 2.4 and 5 GHz, designed for up to 200 clients. Allows you to get speeds up to 1300 Mbps at 5 GHz! Thanks to the powerful hardware stuffing, such a point will be able to serve more clients than other points.
UniFi AC Mesh - outdoor dual-band point at 2.4 and 5 GHz. It is used for distributing Wi-Fi on the street, for example, on the summer terrace of a cafe. Not afraid of any weather conditions.
UniFi AP AC Mesh Pro - Mesh hotspot 2.4 + 5GHz. Provides excellent wireless coverage in large open spaces and enables rapid deployment of high-performance large-scale Wi-Fi networks.
All wireless points are controlled centrally using a controller software or hardware controller UniFi Cloud Key.
The controller software is installed on any computer, laptop or server running Windows, Mac or Linux (Ubuntu, Debian).
Hardware controller UniFi Cloud Key - These are mini-computers that connect to the LAN port of a router or switch. This way, you don't need to use a separate computer to manage the APs.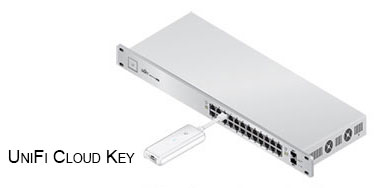 The controller configures the Wi-Fi network, places devices on the floor plan and administers them. You can create virtual Wi-Fi networks to, for example, create a separate Wi-Fi network for cafe visitors and staff.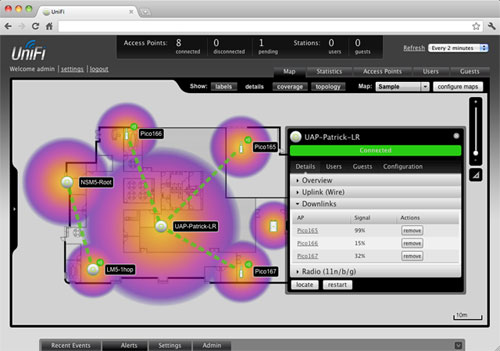 Controller program interface.

The controller has a built-in HotSpot with the following capabilities:

generating passwords for clients;

setting the access time, for example, 1 hour, day, week, etc .;

printing receipts with a password to Wi-Fi.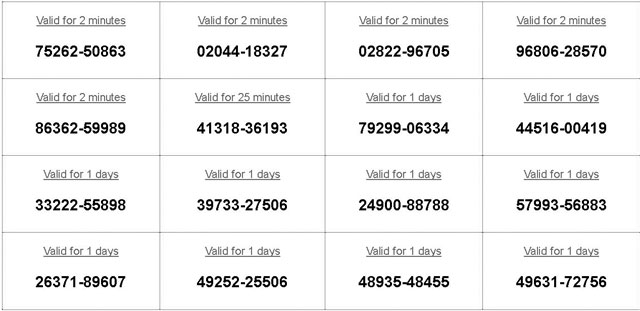 An example of checks with passwords for Wi-Fi.

The controller allows you to quickly add new Wi-Fi points to an existing network without the need to configure each device separately. The program will automatically configure them as soon as you add the device to the floor plan. This approach greatly simplifies the deployment and management of a Wi-Fi network.
For a cafe, you will also need to buy a router to which Wi-Fi points will be connected. We use reliable and highly functional routers from the Latvian manufacturer MikroTik.
For cafes with up to 50 visitors, the MikroTik router is suitable HEX PoE.It allows you to power the access points using PoE technology.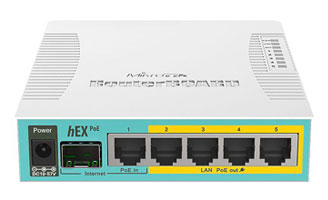 Router MikroTik hEX PoE
For a large cafe with more than 50 visitors and a large number of Wi-Fi points, you will need a more efficient router, for example, RB3011UiAS-RM.

Router MikroTik RB3011UiAS-RM
MikroTik routers allow you to connect the Internet from two providers. Therefore, you can make a backup Internet channel in case the connection with the main provider is lost.
In addition, MikroTik routers have their own built-in hotspot. If you don't want to use the UniFi controller hotspot, you can use the MikroTik hotspot.
We install the equipment described in this article in cafes and restaurants since it works stably and withstands a large number of simultaneous Wi-Fi connections.
Our specialists are engaged in the installation and configuration of Wi-Fi equipment for cafes and restaurants in Azerbaijan.
If you have any questions, call Compusale! We will answer all your questions, help you choose Wi-Fi equipment for your cafe or restaurant, and perform installation and configuration.