The Best Price-Quality Ratio ! Mikrotik hAP Lite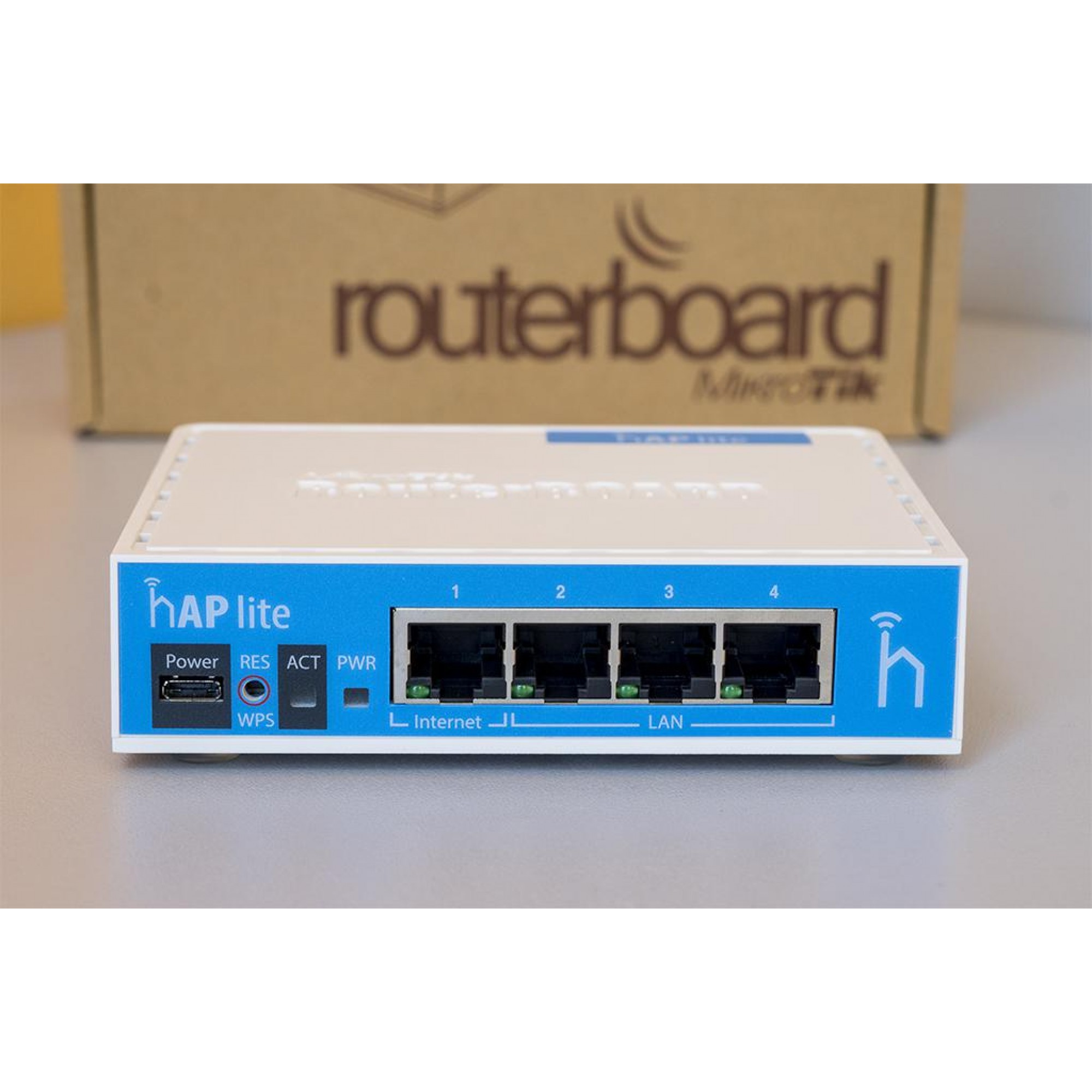 The Best Price-Quality Ratio ! Mikrotik hAP Lite
A great selection for your home for only $ 35!
Mikrotik routers remained devices for professionals for a long time, however, with the growth of RouterOS functionality, the web configurator also developed, becoming more user-friendly.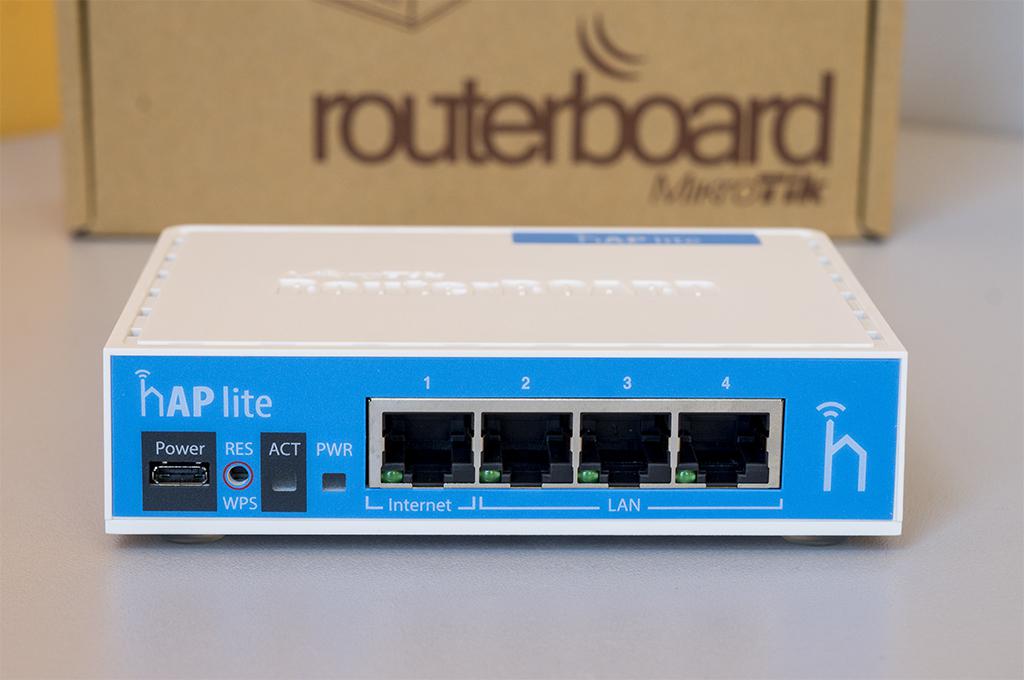 Mikrotik routers remained devices for professionals for a long time, however, with the growth of RouterOS functionality, the web configurator also developed, becoming more user-friendly.
However, not every user can and is ready to give such an amount for a home SOHO router (Small Office, Home Office). And here Mikrotik has something to offer!
Mikrotik hAP lite is positioned as a "home access point".
Contents of delivery
The router is delivered in a box made of fashionable craft cardboard, with the application of the Routerboard logo and a monochrome image of the router. No ads, no description of the delights of the content, only a sticker with the hAP lite model, board ID and MAC address. It is better, MikroTik did not spend money on packaging, and we do not pay for printing services.
On the box is a brief instruction for connecting to a router:
-Connect to WIFI or directly by cable
-Go to the browser at 192.168.88.1
-Admin user without password
The manufacturer also offers to immediately update RouterOS "for best product experience". The update procedure is quite simple, go to the MikroTik website, download the smips firmware version (especially for hAP lite), upload it to the router (Files section), and then reboot. In the same section there is a file with additions, whether to install them or not is up to the user.
Inside the box, a power supply with a microUSB connector (standard 0.5V-2A is suitable), a little instruction and that's all.
Little LifeHack: MikroTik hAP lite, as you can see, the device is small in size, in addition, it can be powered from a laptop. This I mean that in life there may be situations when a router that distributes WiFi locally is a convenient thing. I would have come in handy a year ago when I was on the mobile Internet via a 4G whistle, and WiFi from my computer constantly chopped off my mobile phone, tablet and another laptop.
The usual patch cord is missing, but when you turn on the router starts WiFi and it can be configured without a wired connection. For me, the lack of "ruffles" is only a plus, we all understand that a color box, manual, discs, patch cord costs our money. In my opinion, let them not be better.
Appearance
The dimensions of the router itself pleased me with 90x115x30 mm, at first I was embarrassed by the lack of external antennas familiar in this case, but, looking ahead, I'll say that I didn't find any problems with WiFi (unless the presence of a large number of wifi networks in 2.4Ghz nearby somehow in future)
Вообще, внешний вид устройства, как и упаковки – минималистичный. Разъем питания, разъемы Ethernet, индикация питания и активности, а также кнопка reset вынесены на одну сторону устройства, все остальные ничего не содержат. Кроме заглушки для отсутствующего в lite версии USB порта.
A little more variety awaits us from the bottom of the case. Legs, vents, sticker with the same information as on the box: MAC, serial, model name. In addition, there are 2 cruciform mounts on the bottom of the hAP lite for mounting the device on the wall. It's great that you can hang the router both vertically and horizontally.
I don't see any reason to climb into the womb, if you want, you can find what you need on the Internet, because I'll take technical specifications from available sources for general information.
Specifications
Processor: QCA9531-BL3A-R at a frequency of 650 Mhz
RAM: 32 MB
LAN ports: 4
Radio module: 2.4Ghz, 802.11b / g / n, 2 internal antennas with a gain of 1.5dbi
RouterOS License Level: 4 to license level information
In general, the iron hAP lite stars from the sky is not enough, WiFi power is enough for an average apartment or small office, however, as stated - SOHO. The most interesting in this case is the software part.
RouterOS
I suspect many have wondered what the 4 level of a license for a MikroTik hAP lite router is. Let's first understand what this RouterOS is all about. Everything is simple. ALL MikroTik devices work on a sophisticated OS for routers, with all the modern capabilities: routing, filtering, channel management, organization of an access point, VPN server and much more. This is exactly the functionality that awaits you in all MikroTik devices. Including in our hAP lite for 1400 rubles.
RouterOS is MikroTik's first product released in 1997. Yes, yes, at first there was software, then (after 5 years) they also made iron for it.
RouterOS is based on the Linux kernel v3.3.5 (at the time of writing), providing a fast and convenient interface for managing all functions. By the way, you can try RouterOS for just that, just download the image from the official website https://www.mikrotik.com and install it on any PC.
RouterOS supports multi-core and multi-processor computer configurations; it is installed on IDE, SATA and USB drives. At least 64 MB of free space is required for installation. Naturally, many network interfaces are supported, including the latest 10 gigabit cards, 802.11a / b / g / n wireless devices, SFP modules and 3G / LTE modems.
I repeat, this tricked-out operating system for routers will stand in your hAP lite, ready for anything.
RouterOS configuration options:
Graphical interface - Winbox (application for windows), Web interface
Command Interface - Telnet, ssh, local console, serial console
API - allows you to build your application
Having come through the web interface, the first thing the user will see after entering the username and password (when set) is the Quick Set section.
Here are collected together the basic basic settings of the router:
WiFi network name, access key, monitoring connected wireless devices. Here you can configure access to the provider, in my case it is a static connection: specify the IP, mask, you can substitute the desired MAC address if the provider restricts access to it. Your LAN settings are also available in this section.
Apply Configuration and Internet access is configured.
These are basic settings, something like ordinary pages in the usual routers. Details await the user in additional sections.
After setting up, I recommend changing the WiFi network encryption settings in the Wireless -> Security Profiles tab.
There, by default, non-secure WPA is turned on (the picture is already turned off)

It is very funny when, by going to the settings of the WiFi interface and looking at 4 pages of settings, you find the Advanced Settings button. "Ah, that was Easy mode," I thought in surprise. However, all these difficulties are needed only when you are faced with a specific task and most likely you already know what needs to be done.




In the Interfaces section, settings for all ports of the router. By the way, you can configure any number of LAN ports as a WAN. Suppose that you have the desire and ability to connect directly to 4 providers - hAP lite will allow this as well. The main thing is not to get confused