New from Ubiquiti: UniFi Access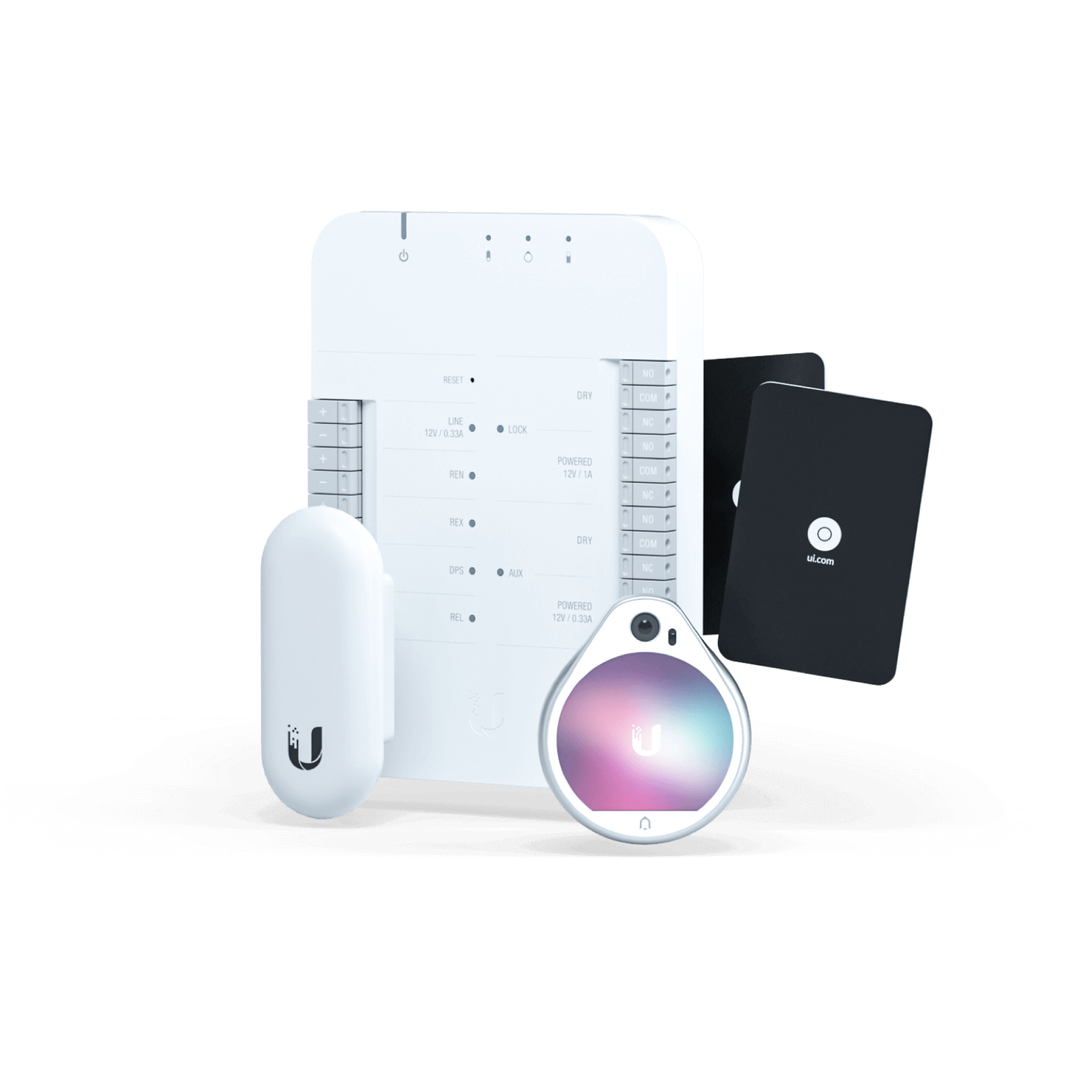 New from Ubiquiti: UniFi Access
UniFi Access -is a door access control system based on proprietary PoE technology that supports conventional electric latches / latches, magnetic locks and 12V access accessories such as motion sensors, buttons and alarms. It requires minimal installation effort and offers the convenience of a UniFi Access Controller that makes it easy to manage users, attendees, schedules, and access policies.

Overview UniFi Access

UniFi Access consists of four elements:
- The UniFi Access Controller, hosted on the UDM-Pro, is the control center for the UniFi Access system with features that allow you to manage personnel, manage space, control access, manage devices, and easily upgrade.
- UA-Hub is a secure I / O hub that authenticates inputs from UniFi access readers, buttons, door position sensor and motion sensor. It also controls door locks, alarms and automatic door openers (motors).
- UA-Pro and UA-Lite are UniFi access readers that support door unlocking with NFC card and will support the following functions in the future: unlock by pin code, by intercom and using mobile apps. Unlike UA-Lite, UA-Pro has a touch screen and camera.
- UA-Card is a UniFi NFC card that is encrypted with a special algorithm for strong security and cannot be played like some other NFC cards. UniFi Access also supports other NFC cards.
UniFi Access currently supports two main access modes:
- NFC mode: Supports physical cards, mobile phones with NFC enabled and analog cards for electronic bracelets. The door opens after swiping the card and successful identification.
- Hand Wave mode: the remote sensor is used to unlock the door, i.e. just move your hand near the UA-Lite to open the door. Since Hand Wave does not support personal identification, it is recommended for indoor applications for hands-free automatic door opening.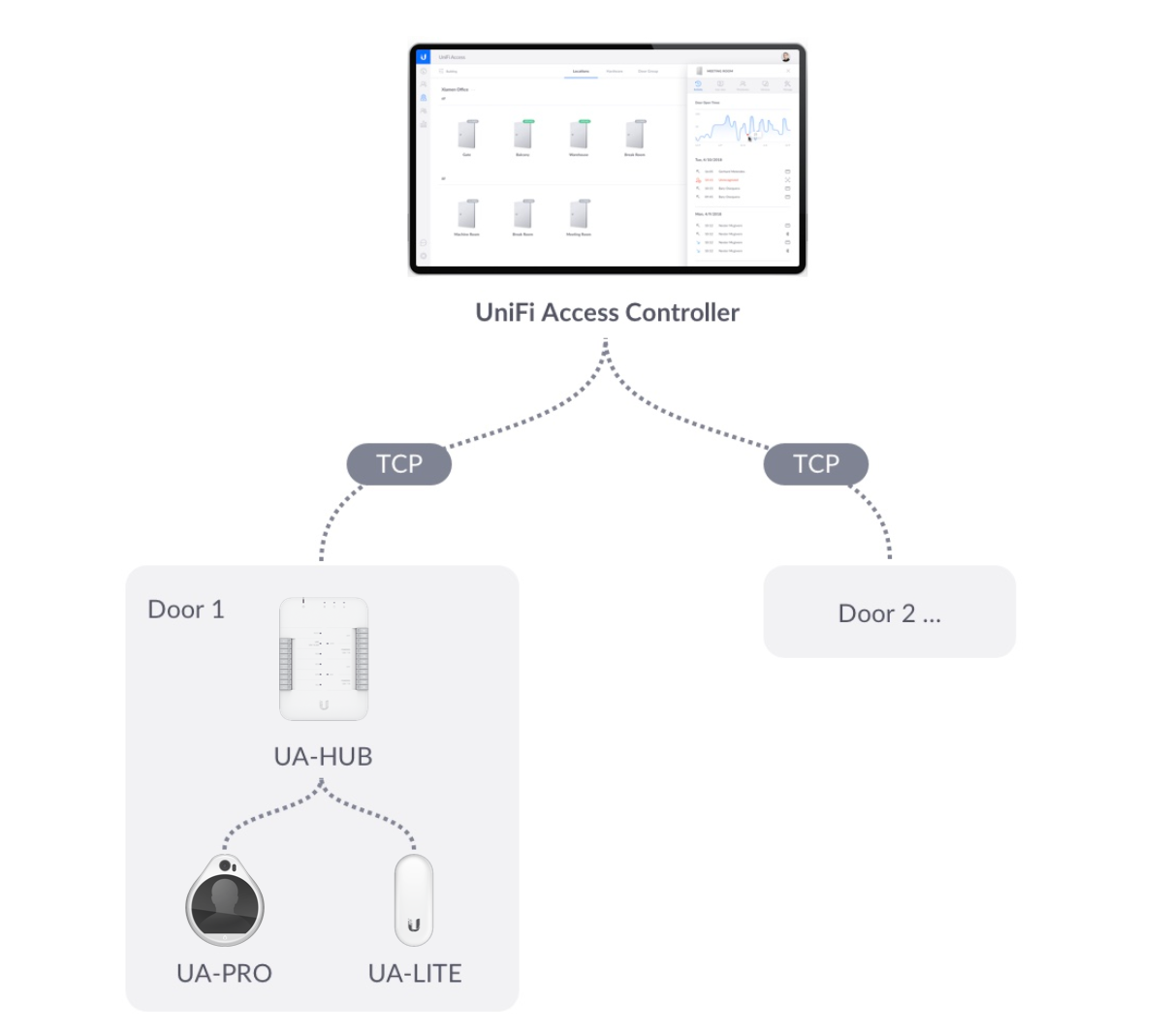 Installation requirements:

Since the UniFi Access setup process involves registering an administrator NFC card, it can only be performed by those who have the owner, super administrator, or limited administrator roles in the UniFi OS hosted on the UDM-Pro.
Before setting up UniFi Access, make sure:
- UA-Hub and UDM-Pro are connected to the same local network.
- UA-Pro and UA-Lite are connected to UA-Hub.
Equipment requirements:
- UDM-Pro
- UA-Hub, UA-Pro and UA-Lite
- PoE capable network cables (Cat5E quality network cable or better)
- Cable 18-22AWG. Already tested cables are recommended:
- Belden 8760
- Belden 8761
Connecting UniFi Access Devices
- When connecting UniFi Access devices, keep in mind that the UA-Hub supports 12V @ 1A.
- When installing a 24V lock, use an external power supply and follow the instructions for connecting devices to an external power supply.
- The image below shows a typical UniFi Access setup with two UA-Hubs controlling two doors.
Configuring the UniFi Access Controller and Adding Devices:

1. Connect the UA-Hub to your local network using an Ethernet cable through the "PoE In" port.
Follow the instructions in the UA-Hub Connection section of the quick start guide.
2. Configure the switch port for the UA-Hub. Make sure the switch port for UA-Hub is configured for the same network segment or VLAN as the UniFi OS access controller and that it supports POE +, POE ++.
3. Connect the UA-Pro, UA-Lite and / or UniFi camera to the UA-Hub port with the corresponding icon. We recommend connecting these devices to the UA-Hub prior to running the setup wizard on the UniFi Access Controller. If you connect them after starting the installation wizard, you will need to manually map the UA-Pro / UA-Lite to the corresponding UA-Hub.
4. To connect third-party devices, see the quick start guide. If necessary, see the quick guide on connecting third-party motion sensors, magnetic locks, and buttons.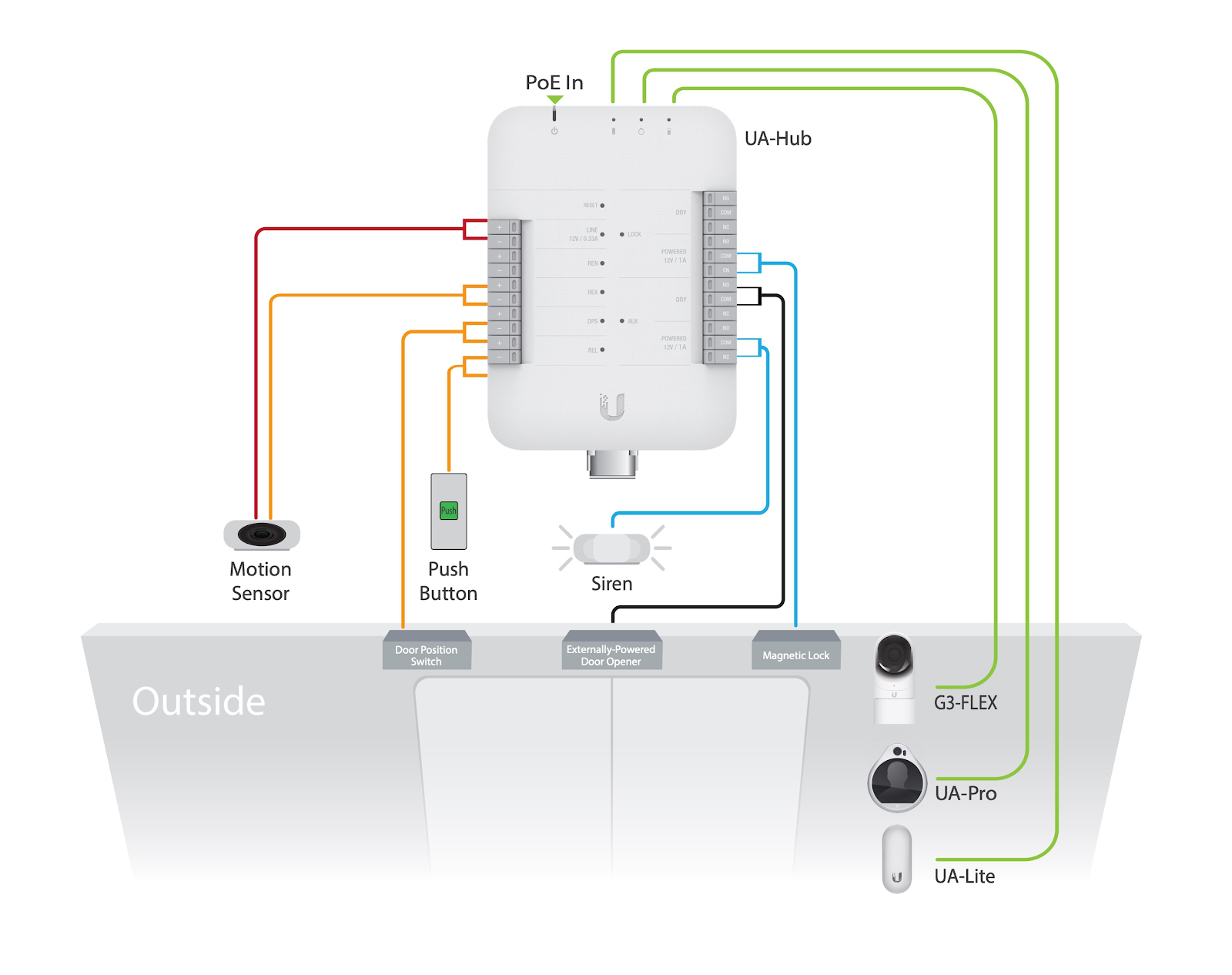 If not all of the connections mentioned are necessary, follow the instructions only for those types of connections that are used in a particular case.
Configuring the UniFi Access Controller and Adding Devices
- To manage your UniFi Access deployment, you need to install and configure the UniFi Access Controller on the UDM-Pro.
- For a step-by-step guide to configuring a UniFi Access Controller, see UniFi Access - Configuring a UniFi Access Controller.
- If you are starting with a new UDM-Pro, follow the device's quick start guide or see UniFi - UDM: How to Set Up a Dream Machine for more information on setting it up.
Frequently asked Questions:
Does UniFi Access support IPv6?
No. It supports IPv4 currently and will support IPv6 in the future.
Can I use one UA-Hub to control multiple doors?
No. One UA-Hub can only control one door.
How are UA-Cards different from other NFC cards?
Unlike regular cards, NFC cards, UA-Cards are securely encrypted to prevent copying.
What is a relay?
These are the types of UA-Hub inputs and outputs:
- input relays include REL, REX, REN and DPS
- output relays include blocking relay and AUX relay
More information on relays can be found in the UniFi Access Datasheet and Quick Start Guide.
What is the difference between a powered relay and a dry relay?
The UA-Hub's powered relay supports 12V. It is also possible to use a dry relay if there is a need to use an external power supply to block them.
Can I connect UA-Pro and UA-Lite directly to PoE switch instead of UA-Hub?
No. The communication between the access readers and the hub is proprietary and special security measures are applied. Therefore, for these reasons, we do not allow UA-Pro or UA-Lite to work if they are connected directly to a UniFi switch.